BIM - Building Information Modeling

Thanks to the cooperation with our partner albert.ing GmbH, Frankfurt, Germany, we are able to offer you the entire functionality and advantages of a modern BIM project room with winplan++ online xD and Squirrel xD.
Interfaces between both programs make it possible to represent and manage all important BIM data of your construction project and make them specifically accessible to your project partners. This is up-to-date planning and building – feel free to use it for your next project. 

The following features are available: 
Upload of IFC models to the BIM project room Squirrel xD via winplan++ online xD

BIM Viewer for the 3D representation of the model 

Separate visualization of the various part models 

Management of part model versions 

Filtering by attributes 

Generation of different views (coordination views)
Workflow component

Generation of new models (IFC files) from the coordination views 

Option to link plans, documents, defects, and tasks in winplan++ online

Visualization of differences between model versions 

Support of BIM Collaboration Format (BCF) for collision checking, generation of workflows, etc.


USE/OPERATION
Optimization of operating costs and resource consumption
Reduction of maintenance costs thanks to (partly) standardized components
Proactive and cost-optimized planning of repair and maintenance work
Centralized documentation of system changes
CONSTRUCTION
Model-based construction processes
Ongoing deadline management and cost controlling as well as object-based billing
Automatic billing and quantity determination
Model-based management of supplemental services

Visualization of construction phases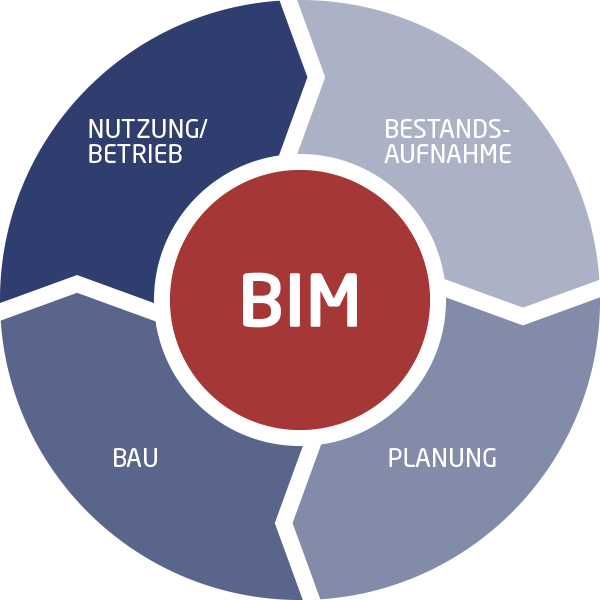 STOCKTAKING
Digital stocktaking
Object classification and modeling of infrastructure
Links to existing data
from existing systems
PLANNING
Interdisciplinary planning using one common model
Links to cost and
deadline information
Model-based simulation of variants and change management
Efficient test and release cycles
Use of standards
Visualization in order to increase acceptance by public and facilitate cooperation with political authorities