PLATFORM FOR BIM MANAGEMENT AND COLLABORATION
BIM (Building Information Modeling) significantly simplifies and accelerates the planning process of modern construction projects and infrastructure measures, thus helping to reduce costs.
The entire planning process is conducted in close cooperation with the project team using a digital 3D data model. The central BIM platform wpsquirrel provides efficient access to all data and ensures transparent data management by offering smart communication and control features and automated working processes.
wpsquirrel for your BIM projects – innovative data and information management, including a powerful IFC Viewer and BIM project management on the basis of Open BIM.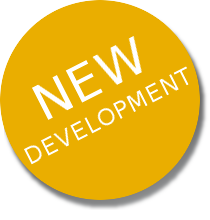 CENTRAL, GENERAL DATA ENVIRONMENT
wpsquirrel provides 100% transparency for your BIM projects.
DATA MANAGEMENT
The entire project team can efficiently access all project-related data and information because all IFC models, plans and documents are managed in a central data environment (Common Data Environment — CDE).
Thanks to unified storage structures and unique data versioning, you benefit from clarity, continuity and data consistency throughout each planning phase.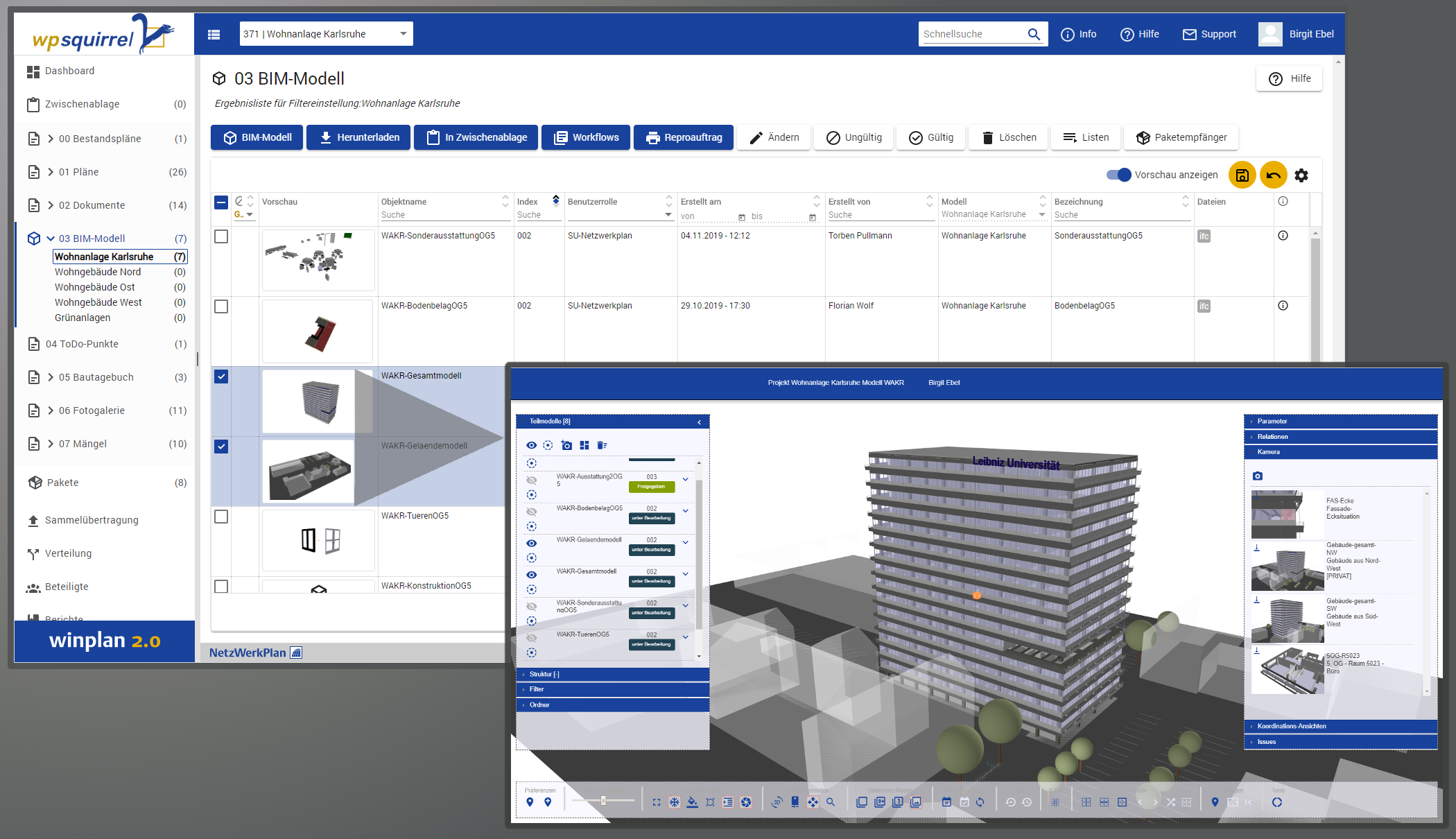 COMMUNICATION AND DATA EXCHANGE
Automatic and custom-made workflows guarantee secure and efficient communication and the up-to-date exchange of all project data and models between the project participants. Important information will never get lost again.
Accelerate your complex planning processes by digitization. Multi-level workflows, for example in the case of model and data reviews, guarantee a comprehensive flow of information and ensure the correct transfer and subsequent use of data.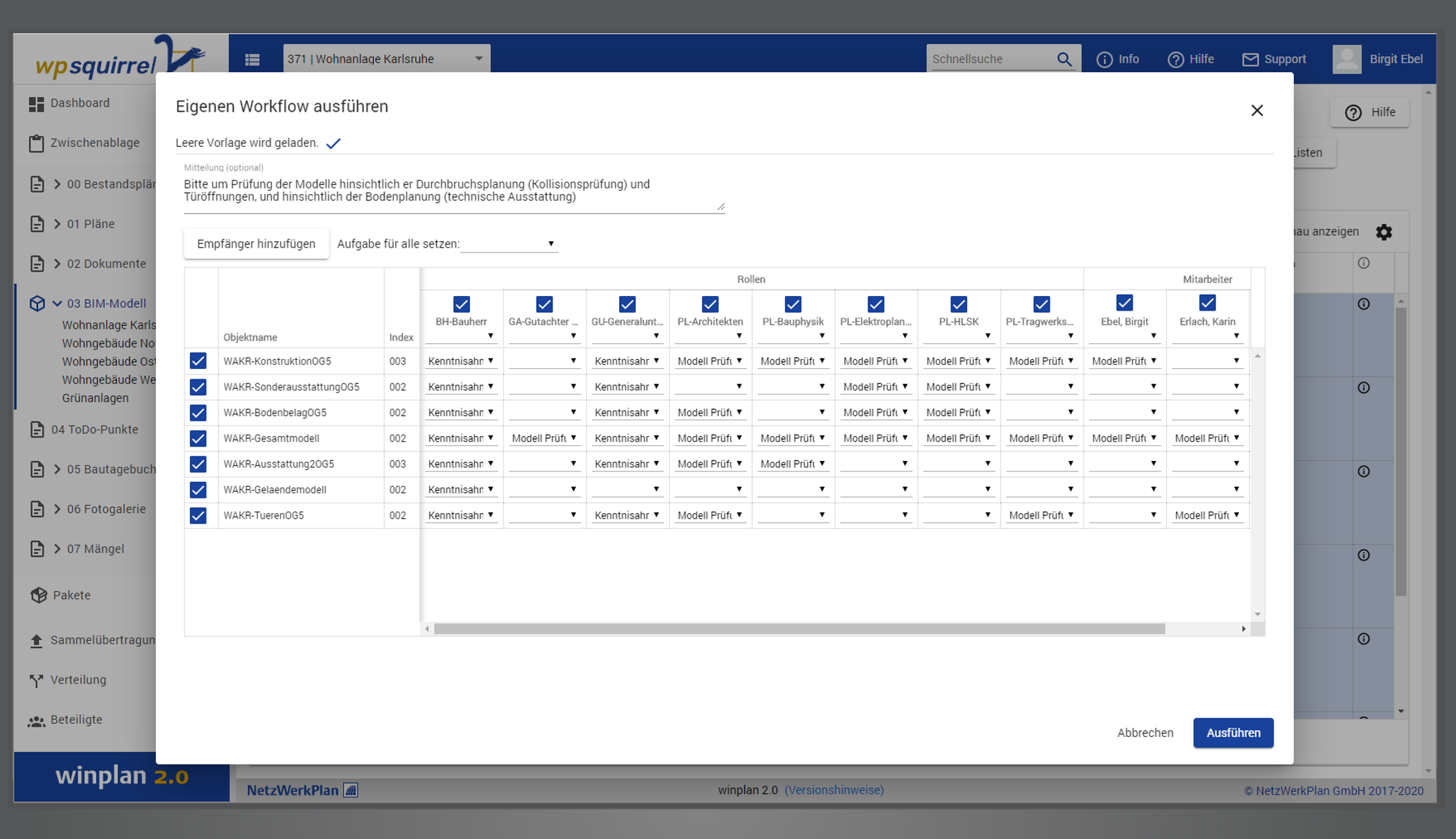 ACCESS RIGHTS
Ensure data security and use unique access rights to only share relevant data with project participants.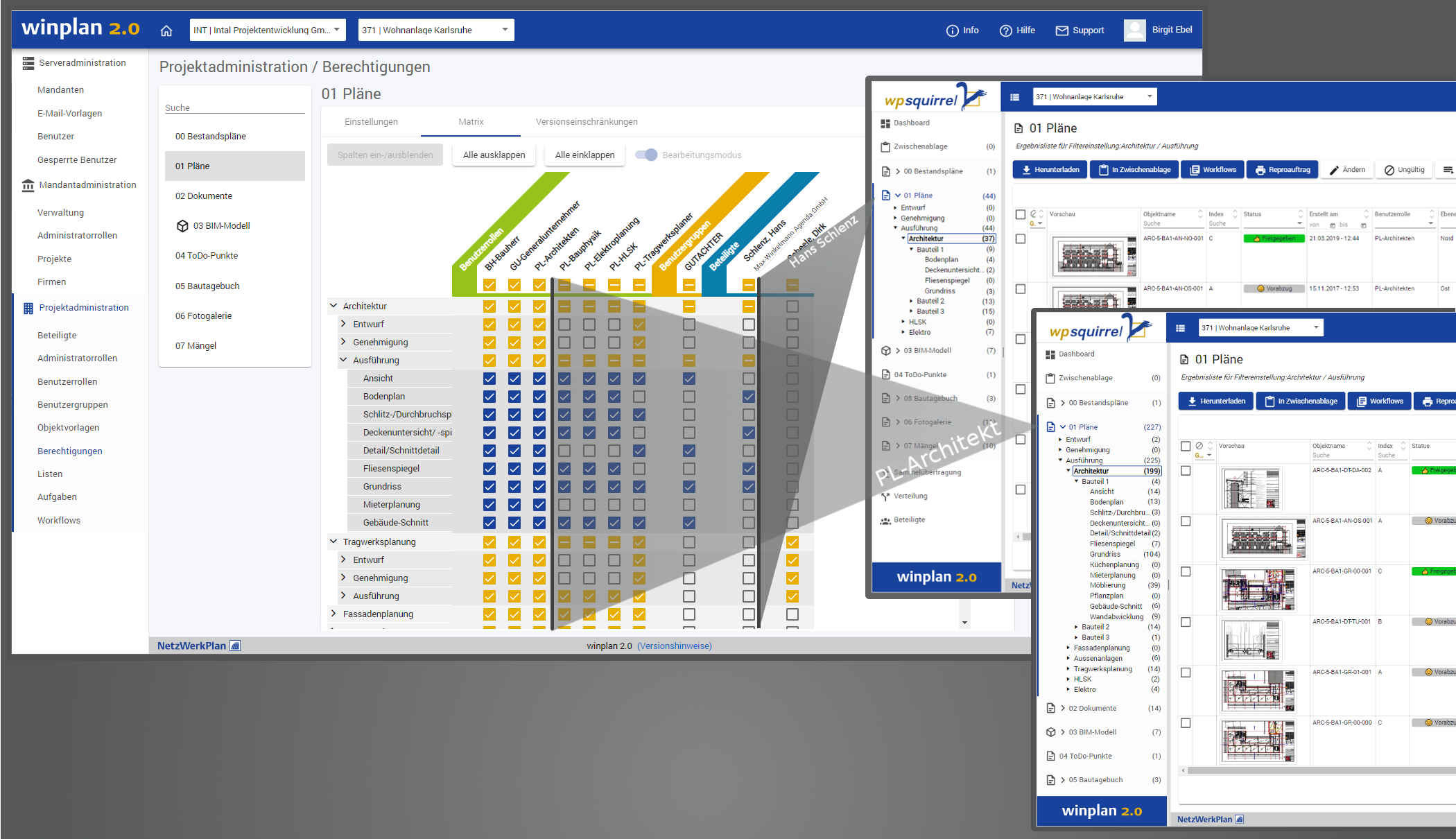 BIM MANAGEMENT
Explore your BIM project with the help of the IFC Viewer and BIM project management based on Open BIM.
PROJECT AS A SINGLE UNIT
By integrating all trade-specific part models into one complete model, you treat your project as a single unit.
Quickly find your way in and around each model. Comfortable navigation tools enable the user to view the 3D model from all directions and positions.
The entire data structure of the model (container plus included objects) as well as the parameters of all building components are clearly displayed in the IFC Viewer.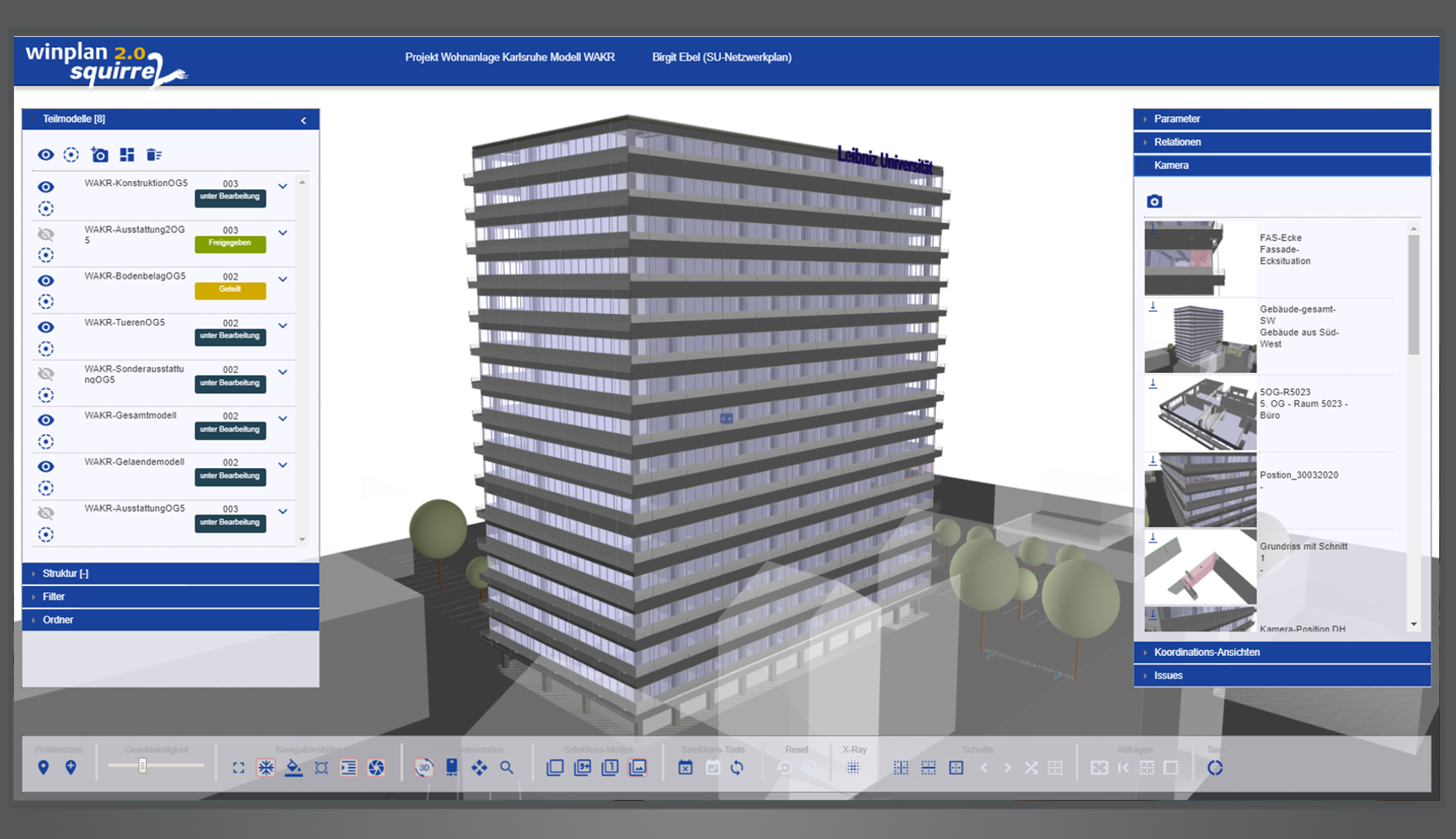 REDUCED COMPLEXITY
Select a single component to view its parameter list and inspect it in every detail.
Use the display control in the structure tree to display or hide models and their containers (floors, components) and enjoy the benefits of the comfortable parameter filters and cutting functions to reduce the model to what is currently relevant to you.
Save the current views as camera positions which you can reopen at a later point in time.
BIM COLLABORATION
Ensure effective cooperation between all project partners.
COORDINATED PLANNING
Create an ideal basis for planning meetings or save released planning statuses at the end of a project phase. To this end, you can combine different part models and revisions into one coordination view in the IFC Viewer.
DETECTION OF CHANGES AND MISTAKES
Detect planning changes at a glance. A version comparison of a model color-codes all changes made to objects and parameters.
Detect planning mistakes and line overlaps at an early stage with the help of smart collision checking. (This feature will be available soon.)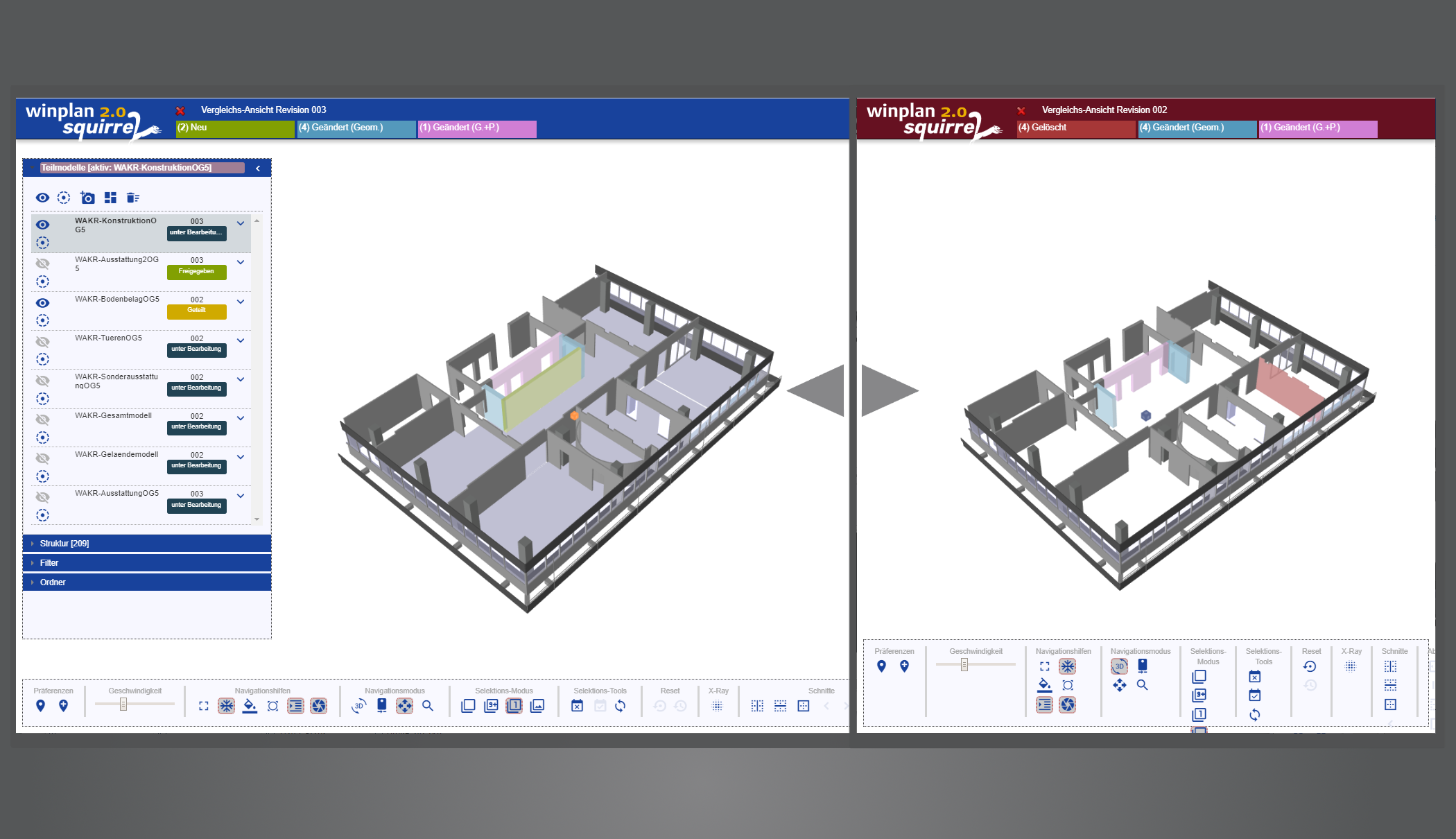 ISSUE MANAGEMENT
Ensure transparent communication about building components and uncover mistakes!
Attach comments directly to a component in the IFC Model to call attention to defects. You can also assign priorities, responsibilities and deadlines.
All Issues are clearly documented in wpsquirrel and distributed to the responsible parties with the help of workflows.
Track any changes made to the Issue and its processing states in its history that provides a complete and comprehensive documentation.
Export any Issues in BIM Collaboration Format (BCF) so that you can integrate them in your local system.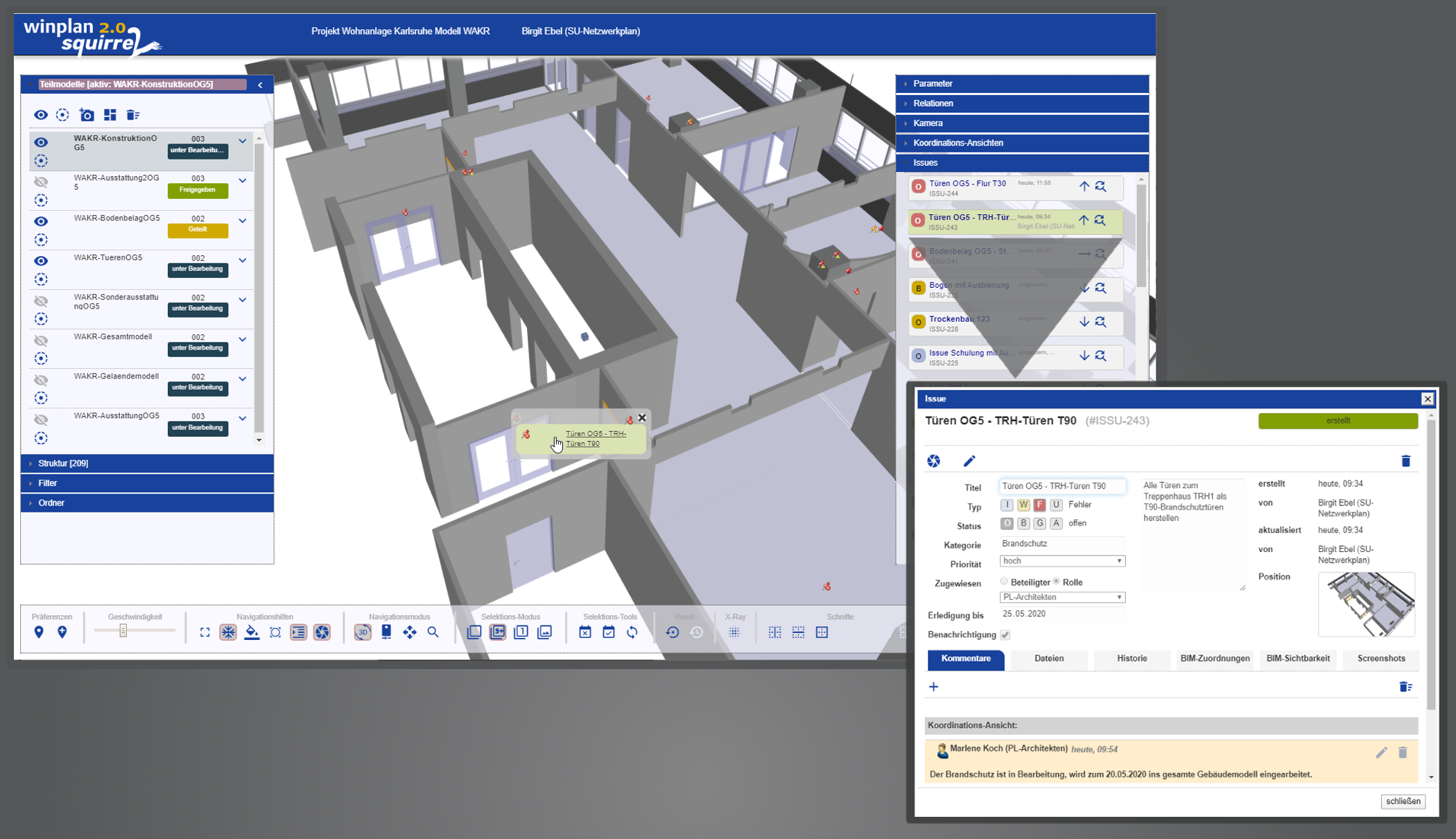 ADDITIONAL INFORMATION
wpsquirrel is a fusion of winplan 2.0 and squirrel –
a cooperation of NetzWerkPlan GmbH and albert.ing GmbH.
For further information on winplan 2.0 and squirrel, please check the respective websites.